LinkedIn success: daily posting myth. In today's digital age, establishing a robust online presence is essential, and platforms like LinkedIn have become pivotal in professional networking and personal branding. It's a realm where a widely circulated piece of advice suggests that posting content daily is the key to growth. However, what happens when you stop posting for a week? Is daily posting truly the magic formula? This discussion explores the myth of daily posting on LinkedIn and its impact on your professional journey, shedding light on the nuanced reality behind this common recommendation.
Myth Debunked: Daily Posting on LinkedIn
Want to expand your presence on LinkedIn? Posting every day – incorrect. I refrained from posting for 7 days, so you don't have to. See the outcomes below. But first, listen to me. Consistently writing on LinkedIn is fantastic.
Your audience demands it, like tuning in to their favorite TV show.
The algorithm depends on it and rewards us for it.
We need it, especially as aspiring (and competent) writers.
Consistency is the key. Writing (daily) has made my thoughts more lucid.
It boosted my confidence in a topic I adore.
Encouraged me to explore new information about it.
Eradicated my imposter syndrome.
The Experiment and Its Results
Well, then why the heck did you stop for a week? Because I'm a social media enthusiast. I wanted to test the hypothesis: "Posting on LinkedIn boosts your account." So, here are the results in 7 days:
+310 new connections,
+53% more profile visits,
+3 incredible content creators I connected with.
How? C-O-M-M-E-N-T-S. If your LinkedIn profile were a startup:
Posting is the product.
Connecting is the growth mechanism.
Commenting is building the brand community.
You don't need a product to build a community. You don't need growth to build a community. You build a community by:
Engaging with people.
Every day, consistently.
Conclusion
LinkedIn success: daily posting myth. While consistency in content creation is vital for your online presence, it is not the sole factor driving growth and success. Building a genuine community and fostering meaningful interactions through comments and engagement prove equally, if not more, valuable. As we navigate the intricate landscape of personal branding and professional networking on LinkedIn, it becomes evident that striking the right balance between content creation and community building is the true path to sustainable growth and personal fulfillment in this digital realm.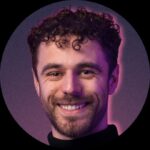 Starting in May 2022, I took to LinkedIn for content creation, and my journey began humbly. The true turning point was discovering ChatGPT, which transformed my online presence. Introducing it to my followers, I saw my reach explode from a modest 50k impressions to a staggering 1.5 million views. Embracing my newfound role, I became a connector between people and the potential of AI.
Fast-forward to today: I've impacted over 50 million people, ushered +20,000 students into the AI world, and sold in excess of 1,000 courses on rubenhassid.ai/courses. Gratefully recognized as the 2nd top content creator on LinkedIn by Favikon, I've also had the privilege to collaborate with renowned brands like Notion, Tribescaler, and others.
For collaborations, insights, or just a chat, I'm always available to connect.