The role of personality types in teamwork. I recently attended an extended version of the DISC training, and I couldn't help but share a few reflections. Just to be clear, it wasn't my first time attending this type of training, which gave me a different point of reference, but more on that in a moment.
The training was organized for the team I currently work with and conducted by the company Human Skills from Warsaw, specifically by the fantastic trainer Magdalena Honory.
In short
I won't go into great detail about the DISC model itself because I'm not an expert. In brief, it helps diagnose a person's most natural behavioral style. In simpler terms, it allows us to get to know ourselves better. The extended version focuses on communication, so it not only helps us understand ourselves but also others.
Each behavioral type is associated with a dedicated color. Importantly, our color doesn't define us; we're not just one thing. We can be different depending on the situation, our mood, what is expected of us, or whether we feel comfortable or not. It's also worth noting that while one color may dominate in us, other colors also play a role. In my case, there are three colors in total.
So, now that we have a brief explanation of the tool, why is it useful for anyone? We all need to communicate, but not everyone can do it effectively, or, even better, not everyone can communicate with everyone else. The DISC model helps us in this regard. Knowing our own style helps us understand what works best for us, but knowing or being able to recognize the styles of others helps us tailor our communication to what works best for them. Isn't that a real life hack?
Who am I?
Well, let me tell you right away that my dominant style is yellow. By nature, I am sociable, open, enthusiastic, active (love it!), and creative. But there's also a hint of green in me, which is about empathy and caring, generally being a people person. I see these traits in myself, I've known myself for quite some time, so no surprises there. What surprised me, though, was when it turned out that I also have elements of the blue style, which indicates curiosity and an analytical approach! I'll explain why this was surprising at the end.
Now, imagine a person like me, the "life of the party," joining a team of people with a dominant blue style, such as a group of analysts (true story). It's obvious that such communication can be a challenge. I naturally use colorful descriptions that paint a picture of a shared happiness in the land of unicorns and alpacas. They want to know how many alpacas there are, what the coordinates of that land are, and what the travel plan is. This exaggerated example shows that we differ greatly in our communication styles, and the DISC model helps us manage it effectively.
Thanks to the knowledge that I need to collaborate with a group dominated by the blue style, I can prepare accordingly. I can tone down my excitement, focus on details, facts, and specifics. With the dominant green, I can focus on building relationships and a sense of security, and with the 'reds,' I can push for concrete actions toward our goal. Do you get the idea?
It's good to know.
The role of personality types in teamwork. Once you know the keywords for each style, through observation, you can identify which way each person leans and work on communication accordingly. This makes life easier not only in a professional context. In the case of my team, it turned out that we each have our style with a dominance of 'green.' For me, this is great because diversity enriches us. We can analyze topics from different perspectives and support each other when we lack a particular color. If I have an issue with a meeting, I know my colleague will support me because they have a strong aspect in that area.
For a manager, this is fantastic. One-on-one conversations, annual reviews, feedback – knowing which type of communication is most effective for your team members makes everything a breeze. Well, it can be a breeze with practice, openness, and willingness. If not, it's still more like a hassle than a freshly baked bread, as with everything, in the end.
But let's get back to my surprise and disbelief regarding the naturally occurring blue traits in me. As I mentioned at the beginning, this wasn't my first training of this kind. A long time ago, I attended a similar training using a different model with similar principles. Back then, I did have the first two types, but there was no mention of blue! When I went through the first model, I was in a completely different place in my life, both personally and professionally. A lot has changed since then, and to some extent, so have I. This is what the results showed – how the love for Lean can change a person, right?
This is not an advertisement!
The role of personality types in teamwork. To be clear, this post is not an advertisement, and I'm not encouraging you to take this specific training. I just want to show you that such knowledge is simply useful, and it's worth acquiring. I'm very pleased that I had the opportunity to refresh my knowledge and, above all, get to know my team better, which is definitely a valuable asset in times of remote work."
Please let me know if you need any further assistance!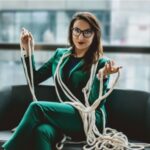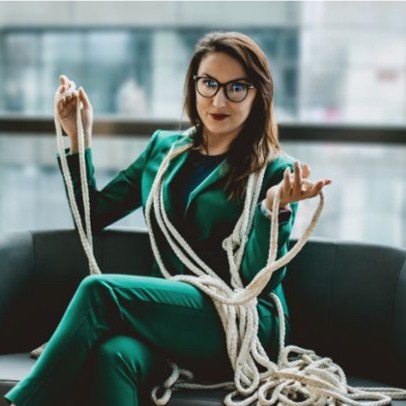 My name is Magdalena and I have been involved in production since 2010. I started as an Operator, and then developed as a Foreman, Production Planner, and I finally ended up in Lean. In the meantime, I graduated from the Faculty of Management with the specialization of Business Psychology. I did it relatively late, because I focused on practical knowledge, which directed me to this particular field of study. Currently, I am still mainly a Practitioner who is closely related to Lean, process management, as well as the building and managing of teams. I also run workshops and consultations concerning this subject, which is my great passion. As a lady in Lean, I want to show you Lean and Management from a slightly different perspective - lights and shadows, as well as fantastic and absurd features. However, no matter how you look at it, it is, above all, a fascinating path to perfection, which I hope you would like to take with me.