Unlocking the power of protein is essential for maximizing your health and well-being. Protein is an essential nutrient that must be present in our diet. It provides us with 4 kcal per gram and is made up of chains of amino acids that perform many functions in the body. They are needed to build tissue, repair muscle, and perform other bodily functions such as hormone and red blood cell production.
Protein is mainly found in meat, dairy, fish, and eggs. Additionally, we can find them in smaller amounts in nuts, soybeans, mushrooms, and legumes. The quality of a protein is greater when its amino acid profile is more complete. This is known as the biological value of a protein. The sources of protein with the highest biological value are egg protein (in a white-yolk ratio of 3 to 1) and whey concentrate (the commonly known protein powder).
Protein deficiency and excess
When we do not consume enough protein, it can alter the activity of the nervous system, internal secretion glands, and organs. It also decreases the body's defense capacity and delays growth and development, especially during the early stages of life. Insufficient protein intake can lead to the breakdown of muscle mass as the body tries to obtain the necessary amino acids.
On the other hand, excessive protein consumption can also cause problems. The body has a limited capacity to absorb protein per meal, and any excess protein will be converted into energy or stored as fat. However, it is more common for excess carbohydrates or fats to contribute to fat accumulation rather than excess protein. It's important to note that excessive protein intake can put additional strain on the liver and kidneys, as the body must eliminate the byproducts of protein metabolism.
Unlocking the power of protein: Daily protein requirements
For a sedentary person, approximately 0.5g of protein per kilogram of body weight is sufficient. However, individuals engaged in muscle development may require around 2-2.5g per kilogram of body weight. Ideally, this protein intake should be divided into 5 or 6 separate meals with intervals of 3-4 hours between each.
For example, an 80kg individual involved in weight training would require approximately 200g of protein per day. To reach this amount, one could consume foods like chicken breast (22g protein per 100g), a small can of tuna (13g protein), or 3 egg whites and 1 yolk (18g protein). It can be challenging to meet these protein requirements solely through solid food, which is why protein powder supplements can be helpful.
Post-workout protein powder benefits
Protein powder offers several advantages compared to other protein sources:
High biological value: Protein powders contain all the essential amino acids necessary for muscle growth and repair.
Fast absorption: Protein powders are quickly absorbed by the body, reaching the damaged muscle tissue and initiating protein synthesis for muscle growth and recovery.
Convenience: Protein shakes are practical and take up less space than carrying around solid food options like chicken breast. They can be consumed within minutes after a workout, providing a refreshing and convenient option.
Affordability: Protein powder is a cost-effective source of protein. Calculations show that the cost per protein shake is significantly lower compared to other supermarket products that provide similar protein content.
It's important to note that protein powder supplements should be used as a complement to a balanced diet, and individual requirements may vary.
Unlocking the power of protein: Types of protein powder
Proteins can be classified based on the method used to obtain them. The four main types are:
Whey concentrate: Contains approximately 78-80% protein and is digested in around 45-60 minutes. It is the most commonly found form of whey protein and offers a good balance of quality and affordability.
Whey isolate: This type of protein is more refined and contains about 90% protein. It is absorbed faster, usually within 30 minutes. Whey isolate is a popular choice for individuals who want a protein powder with higher purity and faster absorption, although it tends to be more expensive than whey concentrate.
Hydrolyzed whey: Obtained through the process of hydrolysis, this protein is broken down into smaller peptides and fractions. It is digested very quickly, usually within 15 minutes. Hydrolyzed whey is known for its fast absorption, making it ideal for post-workout recovery. However, it is also the most expensive form of whey protein.
Casein: Unlike whey protein, casein is a slow-digesting protein. It takes around 4 to 6 hours to be fully absorbed by the body. Casein protein is often recommended for situations where a steady supply of amino acids is needed over an extended period, such as during sleep or long periods without food intake.
The big problem in the protein powder industry
Not everything is good news in the protein powder industry. One major issue is the prevalence of low-quality brands that take advantage of consumers' lack of knowledge. These brands may sell products that don't match the advertised quality or content. It is crucial to choose a reputable and reliable protein powder supplement to ensure you're getting what you pay for. Some brands may use cheap fillers or additives, while others may not undergo proper quality testing or have accurate labeling. If you're unsure about choosing a protein powder, it's a good idea to do thorough research, read reviews, and consult with trusted fitness professionals or nutritionists. They can provide guidance on selecting a high-quality product that meets your specific needs and goals.
Would you like me to provide more information on how to choose a reliable protein powder? Let me know, and I'll be happy to assist you further.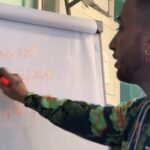 Influencer and promotor of healthy life. A fan of blockchain technology. He is leading a YouTube channel for people interested in the financial market as well as a healthy lifestyle. For him, cryptocurrencies, numbers, finances, strategies, teachings ... the world of the blockchain is very big, very much, much more than you ever thought.