Lean strategies in motorsport. First time he drove a go-kart at the age of 13, at the Almeirim karting track, and his debut race took place in 2012 in the Portuguese Karting Championships, where he managed to secure the second place competing against very experienced drivers. He gained experience by participating in karting championships, including Red Bull Kart Fight and ART Pro Racing as a test driver, racing on almost all Portuguese karting tracks.
Since 2019, he has been a driver for the Euroformula team, where he first drove a Formula Renault 2.0 car. During a two-day test in France, he competed against 10 other drivers and proved to be the fastest driver on the track.
In 2020, he almost set a track record during a two-day test in February at the Circuit La Chatre in France.
Two years later, he joined the Lamo Racing team in the 5th round of the Formula Renault Cup season and participated in the last round of the Club Euroformula season at the Estoril track, finishing in second and third place. This year, he joined the R-ace team, where at Circuit Fontenay-le-Comte, he managed to secure first and third place during his first appearance on the track.
Your experience is impressive. You transitioned from Euroformula to R-ace Inside. What did this change mean for your career? For those who may not be familiar with the details, please explain the differences in the structure of these teams and the opportunities they offer you?
In general, these events are quite similar. The goal is to achieve the fastest lap times in each session. Club Euroformula typically divides them into two days, while at R-ace, we race for just one day. The R-ace program helps drivers develop skills and experience that can be useful in pursuing a career in motorsport.
R-ace Inside is part of the R-ace Gp team, where drivers like Pierre Gasly, Esteban Ocon, and Oscar Piastri used to race. Have you had the chance to meet any of them in person? Is the career of any of these players similar to yours in terms of goals and dreams?
I haven't had the opportunity to meet these drivers in person yet. Honestly, my path has been different from most of the top drivers, especially when it comes to karting and junior categories. It's clear that all Formula drivers share the same passion and dreams, and our goal is the same – "Never give up."
What is your current most important goal to achieve, and what is your biggest dream?
My biggest goal and dream are to have the opportunity to race professionally.
In motorsport, standardization and the repeatability of processes are crucial, both for effective management, participant safety, and team collaboration. Which of these processes (e.g., pit stops, technical tests) do you personally consider the most important and why?
All of them are incredibly important because we can win or lose if any of these processes don't work correctly. You can't skip any steps if you want to be successful. Besides pit stops and tests, all elements require hard work and dedication every day.
How do you adjust your pace in different phases of a race to align with your strategy? Who currently oversees your races?
Before getting into the car and starting the race, the mind needs to be fresh and clear, and during the race, it's essential to manage it in all phases. While driving, it's also crucial to manage tires, brakes, and effective communication. All these processes are interconnected. I am fully responsible for every race in terms of driving it.
Have you ever made risky strategic decisions during a race that brought significant success?
So far, every race has been very carefully calculated and planned, just like all the related actions. We're talking about refining work that never ends at the detail level.
How does your team implement the concept of continuous improvement in logistics, car servicing, and pit stops?
Every day in the world of motorsport starts with planning. The driver, along with the engineers and the rest of the team, analyzes the training schedule or race day and predicts the weather conditions, which are crucial for choosing the strategy and car settings. After each training session and race, the driver analyzes the collected telemetry data and results. This is incredibly important because it helps understand how the car behaved on the track, what the lap times were, what changes were made to the settings, and the results of those changes. The team does this so frequently that it becomes second nature to them. They communicate, develop strategies, and constantly implement them.
Can you provide an example of such results analysis? Besides metrics, what tools do you use?
I analyze them together with the race engineer and discuss them in the context of what can be improved. Before a race or a test, I prepare on the simulator and watch videos of driving on the specific track. In racing, every detail matters, so the process of continuous improvement is an integral part of every driver's work. This process is the key to success both on and off the track.
Short Questions Section:
The team with the best lead driver in F1?
Red Bull
The best pre-race food is…?
Banana
The most expensive car you've wrecked is…
Formula Renault 2.0
A Formula 1 World Champion (former or current) who inspires you?
Ayrton Senna (my helmet is inspired by his colors)
If you had to divide these three categories into 100%, what portion would you allocate to each of them?
Talent 60%, Repeatable processes and training 20%, Team leader and support 20%
The most challenging and demanding race for you is…?
In my karting days when I won my first race in 2012 at Kartódromo de Almeirim in Portugal. I was competing against drivers who were 30 years older than me and had much more experience, so it wasn't easy to handle the pressure at the age of just 14.
Team simulator? Private? If private, what games/simulators do you like the most?
I practice on the Center Simulator and usually use R-Factor2, and in the private version, I typically use Assetto Corsa.
Favorite track? Street, race, or mixed?
Favorite track is a race track.
Interviewer: Agata Nowak, a manager's coach in effective process management, had a conversation with Miguel Gaspar. Agata Nowak is passionate about optimization and constantly seeks innovative and practical solutions in complex and ambiguous situations. She holds an MBA degree, teaches MBA Lean Management, and is a certified Lean Six Sigma Black Belt. She has received awards, including Business Women 2021 in the Leader of Leadership Competencies category and Business Women 2022. Privately, she is a fan of Formula 1, Harry Potter, dance, dark chocolate, and matcha tea.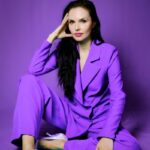 Agata Nowak is a distinguished figure in the world of business and lean management. As the founder of SoulCare and the CEO of Leanovo Academy, she has exemplified her commitment to excellence and innovative leadership. Her tenure as the Head of the Standardization Department at CCC Group showcases her prowess in leadership and her dedication to implementing lean strategy management.