Fortunately, it won't be another post about a catastrophic vision of missing car components. Nevertheless, the sight of cars without bumpers was on the agenda in the US during WWII. The reason – is a huge shortage of materials needed for production. Rubber and steel were missing the most.
As a result, wastes in the production of arms could not be afforded. This is one of the reasons why the TWI program was created, and precisely in this case, the TWI Working Methods.
TWI Jos Methods is a structured method for generating ideas for improvement in processes by operator leaders and other employees supporting the processes. This method allows for the effective reduction of waste in any type of process. It also helps to stabilize the process, which makes it easy to implement standards at work.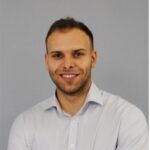 He is a Senior Consultant of the TWI program and Lean Management at LeanTrix. He is also a leader in the startup project - eTWI system. He was a member of a global team that implemented the TPM system for several automotive plants in Europe, Asia, South America and North America.