Leader's training for relevance is important. There are leadership qualities, those takes you to the door. Now, leadership is a continuous game. And you need to hone your leadership traits continuously to remain relevant. My experience of 35+ years tells me that apart from all the known leadership traits, the aspects those makes your life easier are "Ground Intelligence" and "Common Sense". And I rate these two traits as very important, to keep the leader on top of the situation (OTOS), always.
And incidentally, none are taught in any schools, specifically. And the most relevant way to get to these two are "continuous learning through experience" and "feedback". Feedback: As a Leader, you may have to give and receive feedback, and here WHY, WHAT, WHEN, and HOW, all are important. WHY and WHAT resonates mainly with your knowledge, and HOW and WHEN reflects the wisdom.
Giving and receiving feedback is an art, to ensure that it pains minimum while landing to the person, with whom you are sharing feedback, without compromising the spirit of the feedback. You need to make it suit the
context
, as well adopt suitable behaviour during sharing and while accepting the feedback, to make the space comfortable for all. The purpose of feedback is "improvement", and this intent would need to be communicated in a subtle way across to make the atmosphere trustworthy. The leader needs to ensure that clear unadulterated feedback flows both ways, as a part of processing ground intelligence.
The power of experience
Leader's training for relevance is important. Leaders are philomath: Most of the leadership lessons and their validation happens while living the life, leading the team, facing failures, and celebrating successes. And there is a sizable portion of learning flows from the workforce, mostly in the form of hard-earned experiences. What is important for a leader is to park the ego of position while having that appetite to learn from others, and create an atmosphere of learning around, for all to seamlessly exchange those learning, and help all to apply their fine wisdom to absorb, whatever is applicable to them only at the receiving end. Listen to the founder of INFOSYS, Mr N. R. Narayana Murthy, on his version around "how does a leader continuously train himself/herself to remain in the game".
Like, if you found this post useful, share your experience, follow me for many more shares at #thesoulpreneur and at
https://lnkd.in/dz_FkYZG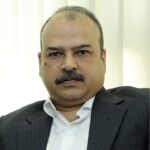 I am a Purpose and Leadership Coach and an Operations Strategist, with a rich professional experience of 35 years.
I help working professionals and SME business owners to find their true purpose and work around their performance to register transformational growth to meet their goals.
I have served Indian Air Force for 23 years and held various leadership positions including heading (commanded) two premier Indian Air Force Units delivering excellence. One of the units was a Training Institute of Indian Air Force, meant for transforming young civilians to competent soldiers, ready to be deployed in the field. I have worked as part of Capital Acquisition and Perspective Planning team, focused into Defense procurement System and weapon philosophy.
I have re-attired into corporate world and held leadership positions for 12 years in Telecom Infrastructure and in Energy/Smart Meter sector. My deep exposure around Military and Corporate Leadership has helped me to practice Leadership Qualities, strengthening Value System, and establishing framework for Uniform way of Working (UWoW) to deliver Excellence and Customer Delight.
I am pursuing my purpose, to "Connect to transform the life cycles" to work on basics to make lives simpler and life cycles extended for people and business houses.
I work with SMEs to improve the lifecycle by aligning the purpose and the execution chain, through Coaching, Mentoring and Consulting interventions, to mitigate the challenges and deliver the value to the customer.
I am passionate about motivating the young and aspirants to practice 360-degree wellbeing, as an individual and a professional, and connect the dots between Purpose-Dream-Strategy-Goal-Schedule, towards leading a meaningful life and making a difference to the society.
I am strongly connected to my commitment to say that "Table a logical challenge, and I shall partner with you to guarantee you the solution". I enjoy connecting lives within the framework of Purpose, Passion, Wisdom, Commitment, consistency and Leadership and make a difference.
I believe that "Life is the only and the best teacher and we all are students. It is a journey to be experienced. At every crossroad, our knowledge, wisdom, karma, values, principle guides us to a direction with a belief, that road ahead shall meet our purpose one day. And every experience en route comes to take us to the next level of our development. So, enjoy the lessons and appreciate wherever you are in your journey. Every season have its flavour and comes to serve a purpose."