What Makes Women Superior Leaders? "Play like a man and win like a woman" – 8 statements about femininity in business.
According to recent international and Polish research studies
72% of respondents identified stereotypes and societal norms that associate high positions with men as a factor hindering women's advancement. Despite some social progress, stereotypes remain the biggest obstacle to women's career development. This conclusion is reinforced by the next two most popular responses regarding barriers: the dominance of men in high-ranking positions within companies (48%) and sexism and discrimination (46%). The existence of these stereotypes is also reflected in the belief of as many as 30% of respondents that women lack the specific qualities characteristic of good leaders.
CEO Insights on Embracing Femininity in Business:
There isn't one solution to change this reality yet. Recently, I've heard a few responses from my CEO friends:
"Strengthen feminine qualities. Look, Agata, according to Peter Drucker, these are precisely what constitutes a deficit in management today and is the future of our businesses."
"Balance the male model with femininity. In my opinion, women trying to be as tough as men, dressing 'like men,' unnecessarily create a fog of similarity and imitation. They should leverage their femininity, even in attire, which imposes an obligation. Dress like a woman, which will also increase the likelihood that you'll behave like a woman. Through this, these qualities specific to you as women are more visible against our typically masculine ones."
"It doesn't matter if you're masculine or feminine. Dress as you wish and be who you are. What matters most is your results and how much humility for growth you possess. Development is always visible and rewarded."
"Women rule the world. Have you watched 'The Sexmission' a polish movie?"
"What to do? Let's talk about facts. Research conducted by Procontent Communication agency indicates that 16% of Poles believe that women make better bosses than men. Just five years ago, in other studies, the acceptance rate for a female leader was only around 9%. This is progress toward gender equality. Manage as best as you can, fight for what you deserve, but not against your femininity. Besides achieving goals, what we all need today is empathy, multitasking, and sensitivity, which, regardless of a man's disposition, women always possess in greater proportion."
"I'll answer in a textbook manner: 'Play like a man, win like a woman.' Take your lipstick and attack."
"Learn to embrace leadership and manage a team. Leadership is gender-neutral. There is no gender."
"Yesterday, I read a great book, and I'll quote: 'Women shouldn't ask for equality, they should take control.'"
What makes women superior leaders? Which of these points resonate with you?
Research conducted by Ipsos in collaboration with the Global Institute for Women's Leadership at King's College London and Growing Power of Women – Women in the Labor Market was carried out by the research firm CubeResearch.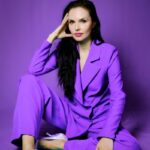 Agata Nowak is a distinguished figure in the world of business and lean management. As the founder of SoulCare and the CEO of Leanovo Academy, she has exemplified her commitment to excellence and innovative leadership. Her tenure as the Head of the Standardization Department at CCC Group showcases her prowess in leadership and her dedication to implementing lean strategy management.