Supply chain crisis in Asia
The Supply chain in Automotive industry today is highly affected by crisis of lack of microchips from Asia and production closing of suppliers in Ukraine due to the war. It has generated production stop or volume reduction at OEMs (car makers). Consequently, the orders from OEMs to all their suppliers are significantly reduced in first half of 2022 with emphasized fluctuation in short time period.
In order to understand the issue in supply chain it is necessary to look back of relation between customers (OEMs) and their suppliers. The frequency of products ordering from OEMs to all suppliers is regularly few times per week with time window for longer period of three or more months. The order contains delivery schedule: date of delivery and ordered quantity. Due to unstable supply situation on the market the fluctuation in orders is extremely high. The situation requests heightened attention to Logistics staff in every company (Tier one and Tier two suppliers). The production and material planning must be aligned with customer orders in order to avoid goods inventory raising. Every over production or over material ordering reflect to company losses.
The production plan at supplier site must be adjusted constantly after every change in customer orders (postpone of delivery or reduced quantity in delivery schedule). It reflects to material planning and adjustment of orders from Tier one suppliers to sub suppliers.
The over stock is "captured" money in contemporary business. This is a reason why Logistics staff play very important role as a leader in time of crisis. Their technical and analytical skills are coming now to the foreground more than ever.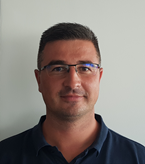 Ivan Djordjevic is Supply Chain and Logistics Manager with 8 years' experience in Automotive industry in different international companies. He is Doctor of Science (PhD) from 2019 in field of Supply Chain and Logistics. His main work areas are Material and Production planning, Transport and Warehouse Management, Customs Operation, Deliveries to customers. He is a visiting lecturer at the faculty. In free time he enjoys in nature and river.