Sales excellence through data. You're probably familiar with the statement that data is the oil of the 21st century. Therefore, it's worthwhile to use them not only when making strategic decisions but also in the sales process.
The Power of Data Analysis in Today's Business World
In today's business world, the indispensable skill is data analysis and the ability to draw the right conclusions based on them. It's valuable to tap into data resources and information available on the web.
Why Use Data in the Sales Process?
The answer is simpler than it might seem. Data provide us with insights into customer preferences, behaviors, and trends. Having this information gives you an advantage over your competition. With access to data, you have the opportunity to use them during the marketing and sales process. Such data allow you to justify the rationale for investment, and they can be used directly in customer conversations.
Essential Data for IT, Automation, or Robotics Businesses
Operating in the IT, automation, or robotics sector, it's valuable to have access to data such as:
Unemployment levels (also broken down by regions)
Estimated number of people entering and leaving the job market over the next few years
Labor costs for the position for which you are implementing automation (if applicable, also broken down by regions of the country)
Data related to the sector in which you operate
Investment levels in the sector to which you address your solution.
Other relevant data from your business perspective.
Turning Data into Informed Decision-Making
Sales excellence through data. Of course, you don't need to know all the data by heart. However, it's valuable to know where they are available so that you can use them at the right moment, during conversations with customers, or when preparing the next marketing prospectus. Processed data give you information Information turns into knowledge Knowledge gives you wisdom Wisdom allows you to make decisions and effectively engage in conversations with customers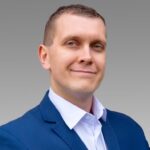 I have nearly 10 years of professional experience in the sale of IT systems and IoT solutions. I started as Sales Engineer, but today I'm Business Development Manager. At that time, I cooperated with companies from the automotive, aerospace, railway industries, SMD/THT contract assembly and distributors of electronic components. I also cooperated with leading Polish technical universities.
Currently, at ALSO Polska, I am developing the Internet of Things department. You will find solutions in the area of assisted / augmented reality (ar / AR), software and platform for collecting data (Saas / PaaS), sensors and elements needed to create an efficient network infrastructure with Cisco Meraki (access points, gateways, switches, routers, cameras, etc).
From October 2020, I am a PhD student in department of Research on the Digital Economy at the University of Economics in Katowice. I will write a doctorate in economics and finance field.