How to achieve sales success? Do you feel happy when you know the answer to a question asked to you? Certainly, because as humans, we like to feel valued. Your customer likes it too, so in sales, it's sometimes worth SPINning.
Breaking Down the SPIN Method
In my recent post, I mentioned that I really like the SPIN method, among other things. But what exactly is this method, and why is it worth getting to know it? The SPIN method is a structured way of asking questions that can be extremely effective in sales, onboarding, or consulting conversations. The acronym SPIN stands for four types of questions asked to the customer. These questions are, in order:
Situational (S)
These are questions that help you understand the context and the current situation of the person you are talking to. They allow you to delve into the background and framework in which the other party operates. This is key to understanding the context.
Problem (P)
These are questions that identify the problems, challenges, or needs of the person you are talking to. These questions help delve into the difficulties they are facing. This is key to capturing the essential problems.
Implication (I)
Once you know the problems, implication questions allow you to delve into their consequences and negative effects, such as the impact of the identified problem on profitability, productivity, or customer satisfaction. This is working on increasing the "weight" of the problem.
Need-payoff (N)
Finally, after analyzing the problems and their implications, it's time for need-payoff questions. These questions direct the customer's attention to the positive consequences of solving the problems diagnosed earlier by using your solution.
Applying the SPIN Method in Sales
When is it worth using SPIN? This method works perfectly in sales where the deal value is high. This includes software, new machinery, process improvement implementations, or persuading people to enter the world of innovation. With SPIN, you can build trust, better identify real needs, and highlight the value of your solution.
The Psychology of Sales
Notice that selling using this method mainly involves you asking questions, and your customer providing answers. By answering your questions, the customer builds a sense of expertise and self-worth. Your ego probably also gets a boost when you can answer questions – that's natural. Therefore, it's easier to build positive and long-lasting relationships with customers because they will remember you fondly. Sales involves a lot of psychology – remember that.
Developing Communication Skills
The SPIN method also teaches listening, drawing conclusions, and asking concise questions. In my opinion, it's worth investing in developing communication skills that will be useful in today's business world.
Conclusion
How to achieve sales success? Do you use the SPIN method? Or do you prefer another one?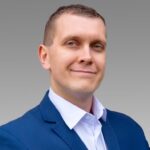 I have nearly 10 years of professional experience in the sale of IT systems and IoT solutions. I started as Sales Engineer, but today I'm Business Development Manager. At that time, I cooperated with companies from the automotive, aerospace, railway industries, SMD/THT contract assembly and distributors of electronic components. I also cooperated with leading Polish technical universities.
Currently, at ALSO Polska, I am developing the Internet of Things department. You will find solutions in the area of assisted / augmented reality (ar / AR), software and platform for collecting data (Saas / PaaS), sensors and elements needed to create an efficient network infrastructure with Cisco Meraki (access points, gateways, switches, routers, cameras, etc).
From October 2020, I am a PhD student in department of Research on the Digital Economy at the University of Economics in Katowice. I will write a doctorate in economics and finance field.