Finding fulfillment: purpose and enjoyment. Some of you do it for your satisfaction. Some of you simply do it for yourself. You love what you do and do what you love to do. You don't care about anybody else; you don't do it for money alone, fame, or a pat on the back.
Some people assume that relaxation makes them happy. They want to work less and spend more time in the hammock. Do they really enjoy it? Don't think so. Pleasure is something that happens to you. You might feel good for the time being. The such state does not provide personal growth, they never align yourself to your purpose, and thus short-lived. And when you do not develop your abilities to the fullest, you remain unfulfilled.
Enjoyment is something that happens when a person discovers something new or pushes knowledge or skillset beyond the barriers of their known boundary and enjoys tremendously. They see doing it as so much fun. You live life through your purpose and meet a challenge en route, and to achieve progress, you need a stretched capability.
With a passion flowing out of purpose, and regular focus, practice and perseverance, you grow out of your present capabilities to meet your challenge and even thrive for higher level of challenges, results in most profoundly enjoyable experience.
This is the essence of flow experiences that results in personal growth and enjoyment, that stays with you and takes you to the next level.
Creativity and enjoyment share much in common. They both help you to come out of the boredom or frustration of your daily life. They both result in a more complex consciousness.
Finding fulfillment: purpose and enjoyment. Music can actually help you become highly focused, and productive. Music can help you to keep your mind in check and prevents it from wandering off. Especially the ones, those you resonate with, whether the vocal, the instrumental or even then percussion. And can help you reach a state of flow with more ease.
I had an opportunity to listen to the mesmerizing musical experience created in the video. And thought of sharing with you all as my tribute to the master and gift to you all, my lovely friends.
We all know the gentleman. Was amazed seeing how completely immersed he became while playing the piano, how connecting was his body language, and how spellbound and hypnotized the audience while witnessing the program. One more great experience around Flow State, and I wish you to witness that.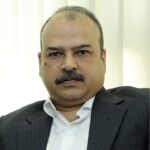 I am a Purpose and Leadership Coach and an Operations Strategist, with a rich professional experience of 35 years.
I help working professionals and SME business owners to find their true purpose and work around their performance to register transformational growth to meet their goals.
I have served Indian Air Force for 23 years and held various leadership positions including heading (commanded) two premier Indian Air Force Units delivering excellence. One of the units was a Training Institute of Indian Air Force, meant for transforming young civilians to competent soldiers, ready to be deployed in the field. I have worked as part of Capital Acquisition and Perspective Planning team, focused into Defense procurement System and weapon philosophy.
I have re-attired into corporate world and held leadership positions for 12 years in Telecom Infrastructure and in Energy/Smart Meter sector. My deep exposure around Military and Corporate Leadership has helped me to practice Leadership Qualities, strengthening Value System, and establishing framework for Uniform way of Working (UWoW) to deliver Excellence and Customer Delight.
I am pursuing my purpose, to "Connect to transform the life cycles" to work on basics to make lives simpler and life cycles extended for people and business houses.
I work with SMEs to improve the lifecycle by aligning the purpose and the execution chain, through Coaching, Mentoring and Consulting interventions, to mitigate the challenges and deliver the value to the customer.
I am passionate about motivating the young and aspirants to practice 360-degree wellbeing, as an individual and a professional, and connect the dots between Purpose-Dream-Strategy-Goal-Schedule, towards leading a meaningful life and making a difference to the society.
I am strongly connected to my commitment to say that "Table a logical challenge, and I shall partner with you to guarantee you the solution". I enjoy connecting lives within the framework of Purpose, Passion, Wisdom, Commitment, consistency and Leadership and make a difference.
I believe that "Life is the only and the best teacher and we all are students. It is a journey to be experienced. At every crossroad, our knowledge, wisdom, karma, values, principle guides us to a direction with a belief, that road ahead shall meet our purpose one day. And every experience en route comes to take us to the next level of our development. So, enjoy the lessons and appreciate wherever you are in your journey. Every season have its flavour and comes to serve a purpose."