4M Checklist. 4M method is a simple problem solving tool which allow us to brainstorm, identify and group potential factors which cause problem. To be more effective during implementation of 4M method (Ishikawa), we could use additional Checklist.
The 4M Checklist is essential part to complete the perfect implementation of 4M method.
There is a standard set of questions which you should ask and review during brainstorm phase. These questions have a goal to help you identify potential causes, but also to drive you systematically through the problem solving process.
Usage of checklist is prevention to not forget some of hidden or not so obvious causes.
Checklist should cover qu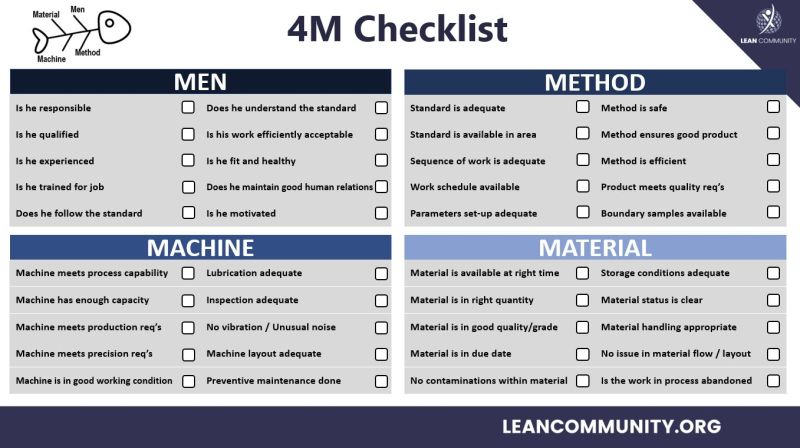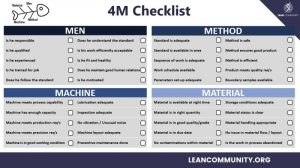 estions from each 4M section:
MEN – Set of questions related to direct & indirect labor and their responsibilities, knowledge & experiences, training, hiring, compensation, benefits, motivation, etc.
METHOD – Set of questions related to working methods – standards, instructions, specifications, guidelines, control plans, etc.
MATERIAL – Set of question to discover status, quality, quantity, conditions, flow, handling of both direct & indirect materials.
MACHINE – Set of questions related to equipment, jigs, gauges, fixtures, calibrations, tables, racks, trolleys, tools, etc.
Problem solving process could be more effective and proposed solution more robust, if we design and use standard 4M Checklist.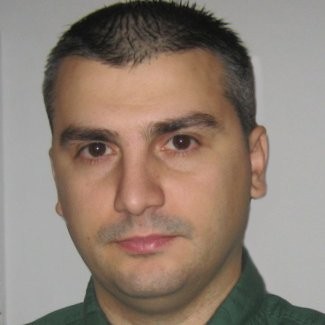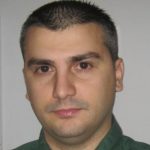 Nenad Marcetic is CIO at Lean Community. He has over 15 years of experience in Lean Management. He is a graduate of Quality Management. He has conducted more than 250 management system audits in various companies and industries (manufacturing, food and beverage, agriculture, IT services, finance, retail, mining). Since 2015 in a global automotive company, where he is responsible for process standardization and the implementation of the IATF standard.