Having the right people in the right place in the industry processes
When we think about teaching methods in the Toyota Production System, we immediately connect this to the "value" of our operators, and how to engage them to be an active part of the Company. This is the "same old story" we have heard for a long time about making operators active participants in all production's activities.
But the task of Training can be somehow easy when we talk about operators working in Manual activities (e.g. assembly, executing the manual operation, or interacting with a simple machine such as a molding press or a cutting machine); these kinds of jobs make it easier to apply standard methodologies of training and engagement (think about the most famous tools such as TPM or the kaizen suggestion system). But what happens if we try to imagine the same application in the case of Capital Intensive jobs (complicated machines where operators have the setup and the supervision of the production as their main task)? Things start to become more complicated. Just imagine teaching your team to take care of their machines with some basic autonomous maintenance: for sure they need to be aware of how the machine itself is working (often with new technologies and PLC driven operations), and they also need to master all the functionalities and technical skills necessary to do that… So, having the right people at the right place is fundamental for building an effective team in this kind of process.
There is even a curious fact about people and how we engage and commit them during their everyday job.
The original classification of Muda (Wastes) done by Taiichi Ohno in Toyota establishes a list of the 7 families of wastes that we can observe on the shop floor. In recent years, especially when all these "lean tools" were moved and adapted in Western culture, we have found a new eighth waste on the list: People!
This does not mean that operators and employees are themselves a waste, but that our employees can become a waste the moment they are under-utilized or, in better words, when we are not able to "use" them at their best.
But why was this 8th waste not mentioned in the original methodology of Toyota?
The answer probably lies in the organization that Ohno had in mind: according to his philosophy, the teams on the shop floor should be organized in a way that they are able to react to an issue exactly like the sympathetic nervous system, without "consulting" the brain. Basic decisions, such as the responsibility to stop a machine in case of problems, react to customer demand, or decide which part should be produced first, are all tasks that can be delegated to first-line operators. As we all know, the empowerment and engagement of operators are essential for the "culture change" we need to really implement a lean environment.
This fact should make us think about the different approaches used in Toyota (and in the USA when TWI was developed): people come first – before all tools, all KPIs and all process improvements. In Toyota's culture, it is unimaginable that employees can represent a Muda, and thus empowerment and behavior are the first things we need to take care of.
The Selection Process
Now that we are clear on what the needs are, and why it is so important to place the "right" employees in the right position, we need to take a quick look at the process we use to select our operators.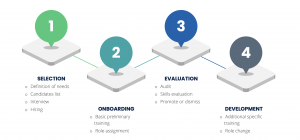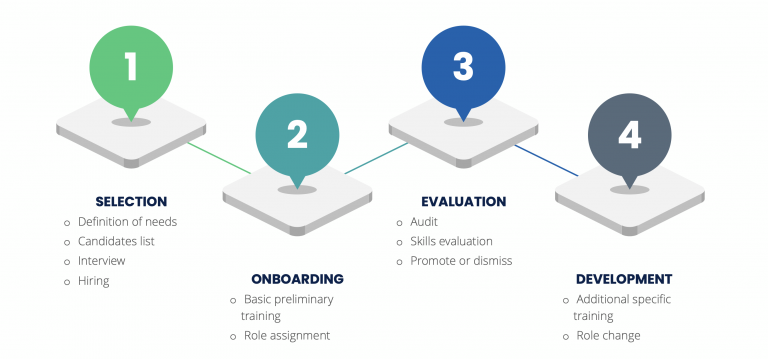 After seeing the complete flow, it can be observed that the evaluation of the skills take place after the workstation has been assigned. Of course, there is first an evaluation of the skills of the candidates, but usually this action takes place during the interview: comparing the requirements with actual skills, and checking for previous experiences, but not really going into details regarding personal predispositions and skills.
Like every problem we have to face, we can choose 2 ways to solve it: preventive or reactive.
Reactive
This is the most common approach we use when we "discover" a problem. We observe something that is not going as it should, is deviating from our expectations, and which triggers our reaction to contain the negative effects.
Preventive-Proactive
We need to make our moves in advance in order to anticipate potential issues. It doesn't matter if some of the actions we take will not be really effective at first, but we should at least have a logical plan before problems happen; in this way we will avoid some of them, and with each day, as the conditions change, we will be more and more effective in our preventive task.
Coming back to our main topic, people, what can we do in advance?
Now let's have a look at how we can move our "Skills evaluation" by at least for one step during the hiring/selection process. Let's take a look again at the selection process: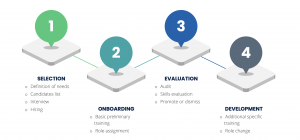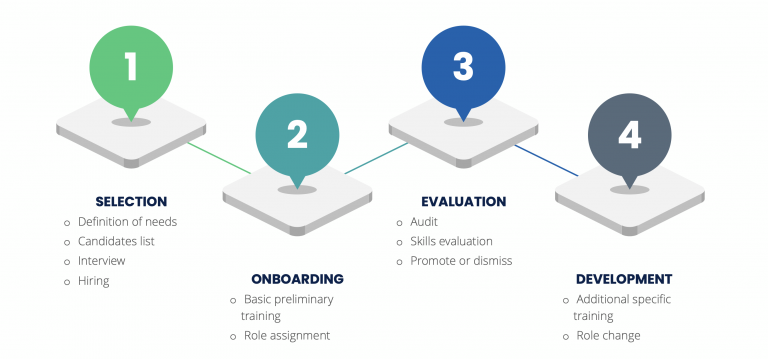 Which benefits do you think we can gather when we will be able to move the skills evaluation from Step 3 to Step 2 (or even Step 1)? Imagine the improvements when you can receive, in advance, the information about what is the best workplace or assignment for your new employees. This is our goal.
The first thing we need to know, before starting to build this evaluation tool, is how to define the scopes of the positions/workstations for which we are trying to find operators. This preventive analysis will help us to understand the area that we need to focus on during the evaluation process. What tasks are we going to require for a machine job?
Machine Safety (awareness): specific risk in capital intensive areas
5S (if they have some previous knowledge)
Autonomous Maintenance
IT knowledge (information technology): how to use a PC, PLC and software
Fast thinking/fast reaction
Machine setup (technical sheet, process parameters, process control)
Basic KPIs (e.g. OEE)
While some of these topics are the same as with any kind of job classification, some of them can provide a huge advantage in the Machine Job process.
Using TWI to standardize the list of topics above may seem difficult, as we are used to thinking that TWI Job Instruction is a fast methodology to "teach operators to quickly remember how to to a job" ; in this case, it's clear that we have more than "a job" to remember, and that all these jobs may be very long and complicated.
As I have personally tested this methodology in long and complex jobs, a successful way to combine the advantages of TWI JI with the needs of modern industries is to again "break" the job into smaller parts, focusing more on the main macro steps instead of going into details, and also moving the training in the direction of the "reasons" for the key points. This approach will of course help operators to remember the correct sequence of long operations, but its main effect is to make operators aware about all the reasons inside the job.
A particular effort should be dedicated to standardizing the "fast thinking/reaction plan": this task is fundamental in processes where machines are running with just the supervision of operators, and also when the machines are not stopping automatically when there is a problem (jidoka). In this case, the operators should have a clear vision about what to do when there are problems, and there is no room here for random attempts! The reaction plan should be clear and defined, and again there is no chance to have a single Job Breakdown for all possible problems. However, explaining the why to our teams will provide us with a great advantage in containing the problems
So classic TWI JI methodology will be less effective in Capital Intensive areas, but using the same logic with some "updates" for modern times will deliver a great way to collect and transfer the knowledge that is flowing every day in our machines. Being able to catch and formalize all experiences from our senior operators will provide a huge step forward for stabilizing and improving our processes, as well as managing new operators at the moment when we need them.
Conclusions
Based on our direct experience, working in process industries requires a completely different approach with regards to the selection and hiring process, and also in the way we deliver training.
Define exactly the skills and knowledge required (something usually not done in the case of hiring operators).
Define a method to evaluate if the required skills for selected people are available or not.
Use TWI Job Instruction methodology to collect and standardize the knowledge already available in the company (please note: more than training itself, it's really important here to define the strategy of preparing all the necessary Job Breakdowns).
"Break" the long and complex operations into smaller logical sequences in order for the operator to quickly understand the logic of the operation rather than just the operation by heart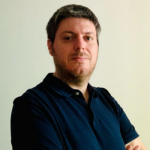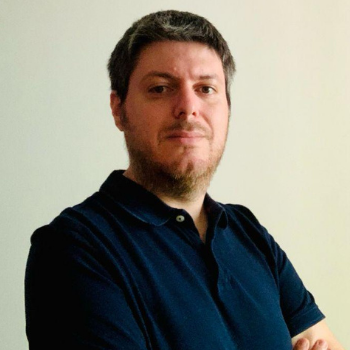 Andrea Manti is CBDO at Lean Community. He has over 15 years of experience in Lean Management. He is an expert in Lean and Quality Management and has held positions working as a Process Engineer, Customer Quality representative, Quality System Manager (IATF standard), and Continuous Improvement Senior Manager. During his career, Andrea has led the implementation of several Lean/6Sigma projects, TPM workshops, and TWI activities. He is also an expert in the World Class Manufacturing (WCM) program