Standard Work Instructions (SWI) are a great tool for describing every operation performed by humans

Currently, most manufacturing companies use machines in the production processes that are often automated more often than not. In such processes, a worker hardly ever performs applied operations. It may seem that in such a situation, SWIs cannot be applied. Well, you couldn't be more wrong. When operating machines are working in an automated mode, operators are responsible for:
Actions related to Autonomous Maintenance (TPM)
Machine retooling (SMED).
Responding to problems/failures during machine operation
Setting of machine parameters
Quality control
Etc.

Standardized TPM AM Instructions. Every one of these tasks can be standardized by means of SWIs. However, in rare cases, you will need to one should adjust the instruction standard to the type of process subject to standardization. And, as you can imagine that an SWI for the setting machine parameters or quality control will look different from one for TPM, SMED, or response to failure. You may, you can have some doubts about what instructions should look like for these operations related to TPM, SMED, or response to failure in general. I'll demonstrate some introduction on how to apply SWIs in TPM AM.
Autonomous Maintenance – TPM

Autonomous maintenance is understood as the performance of everyday cleaning and maintenance actions on a machine by an operator who exploits and uses it. It is one of the pillars of Total Productive Maintenance (TPM) pillars. The basis for preparing SWIs for autonomous maintenance actions on a machine is to work out a list of cleaning and maintenance operations. Such a table should include the following points:
What to check and how to check it
How to perform a given key point (tools)
How often a given element should be checked
Who is responsible for it
How much time it consumes
When a specific given task should be performed
WhetherShould an autonomous maintenance action should be performed with the machine on or off
On the basis of these distinguished specified actions, you will be able to prepare an SWI for automated maintenance operations. To prepare the instructions, you will need to include task visualization because people more easily absorb information demonstrated by means of symbols and colors. For autonomous maintenance actions, it is necessary to visually present crucial elements dedicated only to these processes. The table below presents the way to visualize the autonomous maintenance actions visualization.
Autonomous maintenance action visualization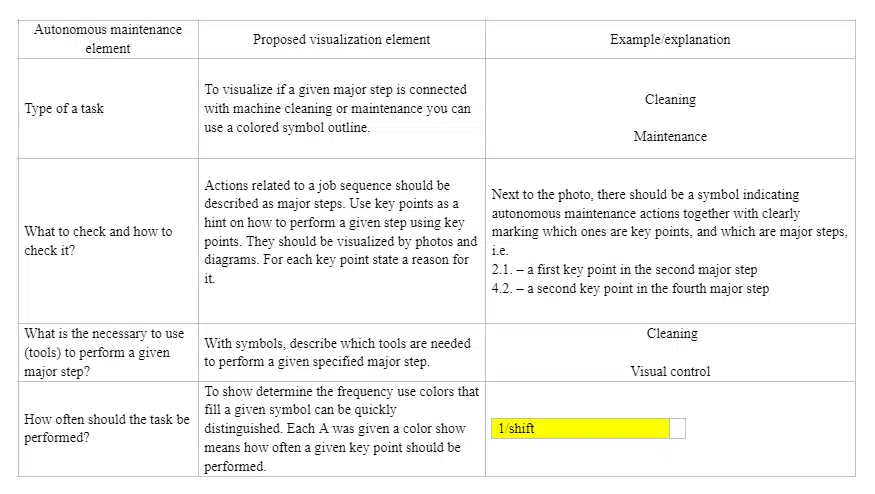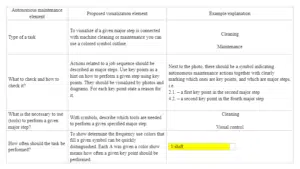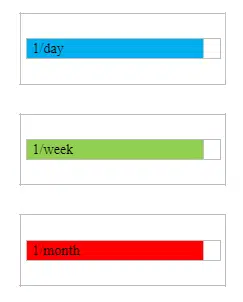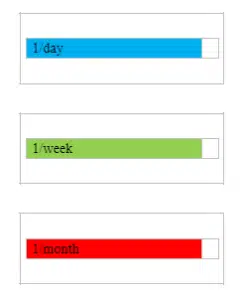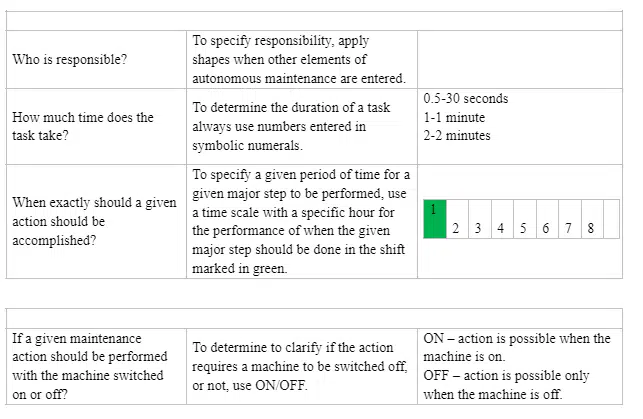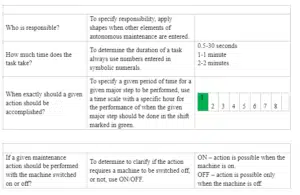 Conclusion

Standardized TPM AM Instructions. SWIs serve most of the description to describe an operational method and the way of performing a given job by an operator. They are a universal tool to apply in any type of production process. The only condition is that the process includes human work. SWIs should be prepared by the people who perform a given operation every day. Only such people are able to include all the important key points in the instructions. SWIs are the basis of the improvement process and an excellent tool for on-the-job training.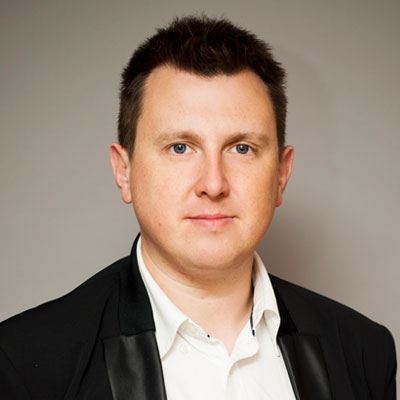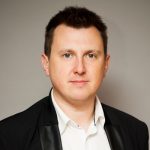 Dr. Bartosz Misiurek is a founder of Lean Community and Lean Management Token. He is a CEO at LeanTrix Global Company and a Member of the Board at Astral Hodling OU (IT Company). Author of the book "Standardized Work with TWI: Eliminating Human Errors in Production and Service Processes." He works as Sr Manager at Automotive Company.