How to Increase Sales? Denis Diderot was a French writer and philosopher. He lived quite poorly, but one day he received a golden ticket to a better life. Empress Catherine the Great offered him a substantial amount of money in exchange for his book collection.
The Diderot Effect in Action: From Dressing Gown to Redecorating
The money proved to be very useful for Diderot. It helped him get out of debt, and there was still plenty left for other purchases. As he was now wealthy, he initially bought himself a very elegant dressing gown. However, he quickly realized that the new dressing gown did not match the rest of his old wardrobe, so he started exchanging his other clothes. Once he had replaced various pieces of his wardrobe, it was time to redecorate his home.
Understanding the Diderot Effect in Economics
In economics, the Diderot Effect refers to consumer behavior when they buy something to bring the rest of their products up to the level of the first purchased product. These examples will illustrate it clearly:
Bought a suit ➡ needs a new shirt and shoes
Built a terrace ➡ needs new furniture
Bought a dress ➡ needs a new handbag
Do you now understand why you encounter ready-made product arrangements in stores with individually priced products?
Practical Application of the Diderot Effect in Sales
Well, you might think this is simple. But what if you're selling technological solutions, for example? How can you use this effect in practice?
Using the Diderot Effect in the Technology Industry
I'll give you an example. Let's assume you provide systems for building network infrastructure. In simpler terms, you can set up a WiFi network for the customer. What do you think about collaborating with manufacturers or stores offering garden SPAs?
When the customer is relaxing in their spa, they will probably want to read something on their mobile device, listen to a podcast or music, or simply provide good and secure Wi-Fi for their guests in the garden. By offering your services and solutions, the spa salon adds extra value for its customers. Everyone will be satisfied.
Unlocking the Sales Potential with the Diderot Effect
How to Increase Sales? Apart from that, offering a relatively cheaper service as an option to the premium second product, which is the garden spa, has another advantage. Have you guessed what it is? What do you think about using the Diderot Effect in sales? Do you think you can apply it in your business? Let me know in the comments.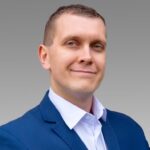 I have nearly 10 years of professional experience in the sale of IT systems and IoT solutions. I started as Sales Engineer, but today I'm Business Development Manager. At that time, I cooperated with companies from the automotive, aerospace, railway industries, SMD/THT contract assembly and distributors of electronic components. I also cooperated with leading Polish technical universities.
Currently, at ALSO Polska, I am developing the Internet of Things department. You will find solutions in the area of assisted / augmented reality (ar / AR), software and platform for collecting data (Saas / PaaS), sensors and elements needed to create an efficient network infrastructure with Cisco Meraki (access points, gateways, switches, routers, cameras, etc).
From October 2020, I am a PhD student in department of Research on the Digital Economy at the University of Economics in Katowice. I will write a doctorate in economics and finance field.