First it discomforts, then the changes. Staying within your comfort zone can feel safe, but it can also limit your potential for growth and fulfillment. Stepping out of your shell and confronting your true inner self can be a transformative experience. Here are some approaches to help you break free from your comfort zone and discover your true self.
Identify your purpose, values, and desires
Reflect on what truly matters to you and what you want to achieve in life. This can help you identify areas where you may be holding yourself back and where you want to make changes.
Start small
Instead of making drastic changes all at once, take small steps that are more manageable and less intimidating. This can help you build confidence and momentum towards larger changes.
Embrace discomfort
Recognize that discomfort is a natural part of the change process, and try to embrace it rather than avoid it. Challenge yourself to step outside of your comfort zone and try new things, even if they are uncomfortable at first.
Practice self-compassion
Be kind and compassionate towards yourself, and recognize that change is a process that takes time and effort. Give yourself permission to make mistakes and0 celebrate your progress along the way.
Manage motivation and discipline
Motivation can take you to the door, and discipline can keep you going, especially when motivation is low. Set realistic goals and work towards them consistently.
Seek support
Remember to be patient and seek support from trusted friends, family, or a coach. A trusted person can help you gain perspective and identify strategies that allow you to break out of your shell and let your true self shine through.
Conclusion
First it discomforts, then the changes. Remember, progress may not always be linear, and sustained action is essential for success. Celebrate your progress along the way, and keep moving forward towards your True North. By stepping out of your comfort zone, you can discover your true self and create a life that is more aligned with your purpose, values, and desires.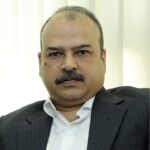 I am a Purpose and Leadership Coach and an Operations Strategist, with a rich professional experience of 35 years. I help working professionals and SME business owners to find their true purpose and work around their performance to register transformational growth to meet their goals.