The Importance of Practice for Skill Development
How to practice? In simple words, practice means doing something repeatedly, following a decision framework, towards a direction, to achieve an incremental improvement in your skill or quality. Regular practice sharpens the skillset and allows one to become more confident in mastering it well.
The Price of Success in Life
Life is never easy; everything comes with a price. To reach your target in life, you must invest quality time and effort with a clear purpose. Your motivation takes you to the door, while your discipline and perseverance get you going. They act as the bridge between your purpose, goals, and accomplishments, especially during phases of low motivation.
The Difference between Motivation and Inspiration
Motivation and inspiration play different roles. When you feel inspired by something, you desire it in your life and want that feeling to remain alive. Motivation, on the other hand, is using that feeling to take action and do whatever it takes to achieve that thing. No training or practice goes to waste when there is clear direction and consistency, even if progress may be hard to measure at times.
The Fundamentals: Trust, Patience, and Belief
Trust, patience, and belief become crucial during the process. It's important to allow time for progress to show up, believe in yourself, trust the direction, and infuse passion to remain focused. This is not an easy task, and it separates the successful from the rest. Practice determines and tests your passion, love, and commitment toward a particular task. The harder you work, the stronger your foundation becomes, allowing for opportunities to make smart work and accelerate results in life.
The Pitfall of Relying Solely on Smart Work
Many people are influenced by the idea of smart work alone. However, smart work is only visible from a distance and doesn't reveal the foundation it's built upon. Starting with an easy approach often leads to failure and quitting.
The Power of Practice Displayed
The body language, expression, and action displayed by the young boy showcased confidence, focus, and ease resulting from practice. It highlighted the importance of consistent practice in achieving desired results.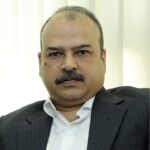 I am a Purpose and Leadership Coach and an Operations Strategist, with a rich professional experience of 35 years.
I help working professionals and SME business owners to find their true purpose and work around their performance to register transformational growth to meet their goals.
I have served Indian Air Force for 23 years and held various leadership positions including heading (commanded) two premier Indian Air Force Units delivering excellence. One of the units was a Training Institute of Indian Air Force, meant for transforming young civilians to competent soldiers, ready to be deployed in the field. I have worked as part of Capital Acquisition and Perspective Planning team, focused into Defense procurement System and weapon philosophy.
I have re-attired into corporate world and held leadership positions for 12 years in Telecom Infrastructure and in Energy/Smart Meter sector. My deep exposure around Military and Corporate Leadership has helped me to practice Leadership Qualities, strengthening Value System, and establishing framework for Uniform way of Working (UWoW) to deliver Excellence and Customer Delight.
I am pursuing my purpose, to "Connect to transform the life cycles" to work on basics to make lives simpler and life cycles extended for people and business houses.
I work with SMEs to improve the lifecycle by aligning the purpose and the execution chain, through Coaching, Mentoring and Consulting interventions, to mitigate the challenges and deliver the value to the customer.
I am passionate about motivating the young and aspirants to practice 360-degree wellbeing, as an individual and a professional, and connect the dots between Purpose-Dream-Strategy-Goal-Schedule, towards leading a meaningful life and making a difference to the society.
I am strongly connected to my commitment to say that "Table a logical challenge, and I shall partner with you to guarantee you the solution". I enjoy connecting lives within the framework of Purpose, Passion, Wisdom, Commitment, consistency and Leadership and make a difference.
I believe that "Life is the only and the best teacher and we all are students. It is a journey to be experienced. At every crossroad, our knowledge, wisdom, karma, values, principle guides us to a direction with a belief, that road ahead shall meet our purpose one day. And every experience en route comes to take us to the next level of our development. So, enjoy the lessons and appreciate wherever you are in your journey. Every season have its flavour and comes to serve a purpose."