Everyone's Success Goal. The journey towards success begins with a sequence of PASS (Purpose-dreAm-Strategy-Schedule) execution. And one most important aspect of achieving a purposeful life is to set a SMART goal for yourself, aligned to your purpose, and dream, and adopt a strategy, that drives your schedule and execution.
𝐈𝐝𝐞𝐧𝐭𝐢𝐟𝐲 𝐭𝐡𝐞 𝐬𝐭𝐫𝐞𝐧𝐠𝐭𝐡, 𝐛𝐞𝐥𝐢𝐞𝐯𝐞 𝐢𝐧 𝐲𝐨𝐮𝐫𝐬𝐞𝐥𝐟
Be clear on your strengths and believe in yourself. Develop and master the skillsets, that would work as your muscle to take you to your desired direction. Put emphasis on what really matters. Knowing and predicting the responses of your opponent, challenges thrown by your obstacles, and learning to take feedback from life, helps in developing your muscle.
𝐓𝐚𝐛𝐥𝐞 𝐲𝐨𝐮𝐫 𝐯𝐚𝐥𝐮𝐞𝐬, 𝐩𝐫𝐢𝐧𝐜𝐢𝐩𝐥𝐞 𝐚𝐧𝐝 𝐰𝐢𝐬𝐝𝐨𝐦
While the purpose to your goal fuels your passion, the approach to your execution makes it profound. Consistent practice of your values, principle, and wisdom that you attach to your execution, drives you from within and becomes your guiding light. Your discipline and motivation complement each other, to take you there and delicate balance of all delivers happiness.
𝐀𝐬𝐤𝐢𝐧𝐠 𝐩𝐨𝐰𝐞𝐫𝐟𝐮𝐥 𝐪𝐮𝐞𝐬𝐭𝐢𝐨𝐧𝐬 𝐚𝐰𝐚𝐤𝐞𝐧 𝐚𝐰𝐚𝐫𝐞𝐧𝐞𝐬𝐬 𝐰𝐢𝐭𝐡𝐢𝐧
The critical thinking process helps draw innovative solutions. What can you do to make it better? How can you meet these goals effectively? Open questions help you to challenge your assumptions, find solutions and
develop
critical thinking skills to make continuous improvements. When you invent your own solutions, you take complete ownership.
𝐌𝐚𝐧𝐚𝐠𝐞 𝐭𝐡𝐞 𝐞𝐦𝐨𝐭𝐢𝐨𝐧𝐚𝐥 𝐫𝐞𝐬𝐢𝐬𝐭𝐚𝐧𝐜𝐞, 𝐟𝐞𝐚𝐫 𝐚𝐧𝐝 𝐫𝐨𝐚𝐝𝐛𝐥𝐨𝐜𝐤𝐬
Challenges are part of life; they come from within and outside, and treatment of each needs a somewhat different prescription. Step out of your comfort zone, learn to embrace the new environment, and work to get answers to …… What needs to change? What does it need to change to? How do you execute the change? facing the fear behind any change is the only way to surge and grow. Being willing to continuously challenge yourself, adapt, and improve to achieve your goal is one efficient and effective way.
Watch the amazing video around the GOAL, to relate to the fine balance around the target, skill, belief, focus, values, awareness, emotional awareness, and fine balance, above all.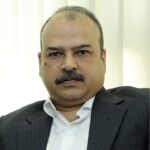 I am a Purpose and Leadership Coach and an Operations Strategist, with a rich professional experience of 35 years.
I help working professionals and SME business owners to find their true purpose and work around their performance to register transformational growth to meet their goals.
I have served Indian Air Force for 23 years and held various leadership positions including heading (commanded) two premier Indian Air Force Units delivering excellence. One of the units was a Training Institute of Indian Air Force, meant for transforming young civilians to competent soldiers, ready to be deployed in the field. I have worked as part of Capital Acquisition and Perspective Planning team, focused into Defense procurement System and weapon philosophy.
I have re-attired into corporate world and held leadership positions for 12 years in Telecom Infrastructure and in Energy/Smart Meter sector. My deep exposure around Military and Corporate Leadership has helped me to practice Leadership Qualities, strengthening Value System, and establishing framework for Uniform way of Working (UWoW) to deliver Excellence and Customer Delight.
I am pursuing my purpose, to "Connect to transform the life cycles" to work on basics to make lives simpler and life cycles extended for people and business houses.
I work with SMEs to improve the lifecycle by aligning the purpose and the execution chain, through Coaching, Mentoring and Consulting interventions, to mitigate the challenges and deliver the value to the customer.
I am passionate about motivating the young and aspirants to practice 360-degree wellbeing, as an individual and a professional, and connect the dots between Purpose-Dream-Strategy-Goal-Schedule, towards leading a meaningful life and making a difference to the society.
I am strongly connected to my commitment to say that "Table a logical challenge, and I shall partner with you to guarantee you the solution". I enjoy connecting lives within the framework of Purpose, Passion, Wisdom, Commitment, consistency and Leadership and make a difference.
I believe that "Life is the only and the best teacher and we all are students. It is a journey to be experienced. At every crossroad, our knowledge, wisdom, karma, values, principle guides us to a direction with a belief, that road ahead shall meet our purpose one day. And every experience en route comes to take us to the next level of our development. So, enjoy the lessons and appreciate wherever you are in your journey. Every season have its flavour and comes to serve a purpose."