Training System: Asset or Expense? Financially, an asset is a resource controlled by the company that has a defined value, with the expectation to gain a future benefit. In general, we tend to think assets are hard stuff, such as equipments, buildings or properties, patents and all the rest of materials a company may need to run the business. This is why all these things are tangible, physically visible, and it's easy to assign a defined value to them.
Some assets are intangible instead, and in this case it can be harder to define the economic value; some easy examples are skills, company knowledge, reputation and employees!
Here it could come the inconsistency of the logic, as employees (and operators in particular) could be classified both as an asset (so a value) and a cost (a resource that is consumed to produce a good or deliver a service).
Invest in your people
If we consider employees an asset, probably one of the most important in an organization, we should think that any other asset, people need to be invested in!
Investing in people is not easy, but the first thing we will probably think in this topic is training. This is logic, we already said that knowledge, skills and the way employees are working is a value, so continuous training should be the natural action to start to invest. But thought many companies state that their employees are an important value, just few of them have developed a robust training system to maintain and increase the "people value".
The solution and the challenge
Training System: Asset or Expense? In many cases, training is just a cost (sometimes mandatory), and it's even considered as a potential waste in case employees will leave the company just after, so not a good investment to do anyway (short-term thinking).
But how we can transform a potential wast into an investment?
First of all, we should switch our mindset from short-term to long-term vision; it is normal to consider a percentage of people that may leave the organization. But having a strong training system in place, will increase the chance that employees will feel satisfy and may see opportunities for the future, feeling that company is taking care of their growth. Furthermore, a training system will facilitate the spread of knowledge and skills across the entire organization, and this will increase dramatically the value of the asset.
But what is a training system and how does it works?
Like other business programs (e.g. Lean programs), and like any process, we need a people (facilitator, instructors and learners), a method, materials (training materials & documents) and a tool to manage all these key factors. How all these factors interact?
In order for a training process to run smoothly and with high efficiency, we need to be sure all actors and materials are working under defined rules.
We need to organize:
the training method (e.g. TWI is one of the most famous in operational business)
the Trainer, able to teach how to follow the method and to verify this is used correctly
the Instructors, expert employees that are qualified to teach and share their knowledge with others
tracking documents (standard and qualification matrix), to sustain the knowledge and allow the audits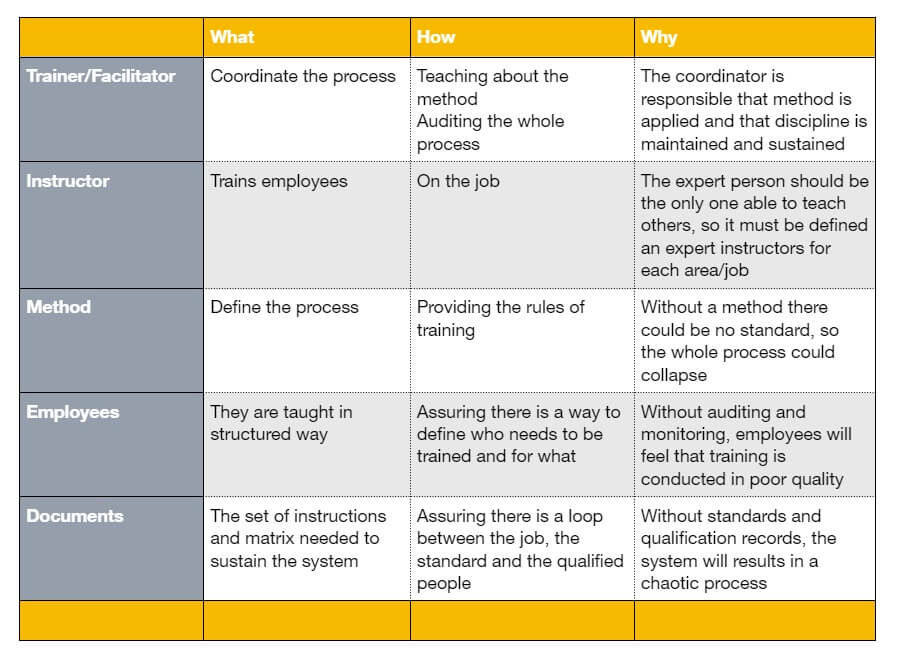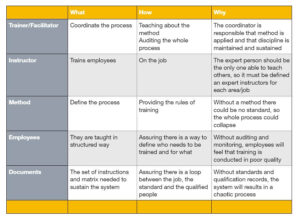 Cost and benefits – the end?
It might appear that b/c analysis will not be positive when we need to organize and keep all these factors under control.
But organisations that implemented such a structured training process have collected many long-terms benefits that could be easily measured:
Labor efficiency and performance increase (due to standardization, not just from "work faster"
Scrap reduction (again from enhanced standardization and awareness of operators)
Polyvalence & Rotation: how many operators can effectively work in which workstation, with a dramatic gain in flexibility
Employees satisfaction: well, this is hard to measure, but employees' retention could improve as people will feel that the company is taking care of their development.
Some results are of course "hard" and tangible, others will be part of company culture, but in both cases it will not be hard to define a way to track all these improvements!
In my opinion, and effective training system (such as TWI) should be budgeted, measured in actions (not on process KPI only) and benefits should be tracked in long term this approach could create a measurable process that can really give evidence of the "people value".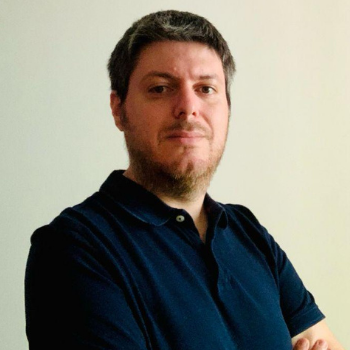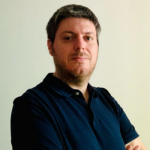 Andrea Manti is CBDO at Lean Community. He has over 15 years of experience in Lean Management. He is an expert in Lean and Quality Management and has held positions working as a Process Engineer, Customer Quality representative, Quality System Manager (IATF standard), and Continuous Improvement Senior Manager. During his career, Andrea has led the implementation of several Lean/6Sigma projects, TPM workshops, and TWI activities. He is also an expert in the World Class Manufacturing (WCM) program