TWI
Have You heard about Training Within Industry (TWI)? – yes yes, I know it's about these instructions! – NOPE!
Generally, when we hear the phrase "Training Within Industry" we are thinking about TWI Job Instructions. However, TWI is a much broader program that has become the basis of the Lean philosophy. His other methods are equally important!
The implementation of the TWI program during the Second World War allowed for:
Reducing training time by more than 25% in 100% of companies participating in the program,
Increasing productivity by 25% or more in 86% of companies,
Reducing the labor intensity per product by 25% or more in 88% of companies,
Reducing scrap by over 25% in 55% of companies
We must remember that the data relates to the comprehensive implementation of 3 methods:
TWI Job Instruction
TWI Job Methods
TWI Job Relations
We will effectively eat a two-course meal using a spoon, knife, and fork – similar to the TWI program, where 3 methods allow us to obtain above-average results.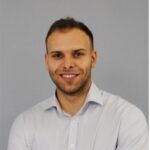 He is a Senior Consultant of the TWI program and Lean Management at LeanTrix. He is also a leader in the startup project - eTWI system. He was a member of a global team that implemented the TPM system for several automotive plants in Europe, Asia, South America and North America.