Enhancing Tooling Shop Performance with SCRUM. Three years ago, I bought a book at the airport to read during a vacation trip I was doing with my family, the name of the book is "Scrum: The Art of Doing Twice the Work in Half the Time". When I first saw it in the bookshelf its title caught my attention. When I start reading it, I discovered that the SCRUM was developed to be used during software's development. No connection with my work field, in this time I was leading a group of engineers in a tooling shop department, and I thought it would not be useful to me, but after reading some chapters I completely changed my mind.
I was lucky to get to know this methodology and to have the opportunity to successful implement scrum in a different business, now I can say that scrum can be used in different situations rather than software development. In this article I will describe how this methodology was used to help my journey in a tooling shop management. As many of you would do, we started defining the process we wanted to implement, and the definition was to use only a part of the scrum methodology, being them: Scrum master, sprint cycle, daily scrum meeting, scrum board, burndown chart and sprint review. Each part defined to be implemented has its own value add to the process, so let's discuss it.
1- Scrum master
Has the function to organize and facilitate all scrum activities, this person needs to ensure that all scrum-based tasks are completely according to the standard, this includes, planning and organizing sprint, leading daily scrum meeting, maintaining the scrum board updated, performing sprint reviews. The scrum master is a key function for keeping the scrum moving smoothly, continuously reporting progresses, celebrating successes with the team, and leading roadblocks solutions.
2- Daily scrum meeting
Some places this is called daily standup meeting, this is a 15-minute time-boxed event, the goal of this meeting is better communication and alignment of the team. Basically in this daily appointment, everybody from the team must answer the questions bellow:
A- What did you do yesterday?
B- What will you do today?
C- Anything blocking your progress?
By listening on what each person accomplished the day before, and will do during the day, the team gains an excellent understanding of the whole picture. Also, if there are any roadblock impeding anybody to conclude their tasks, all the team will get to know, and everybody will be at the same page. This is amazing to potentialize teamwork and create focus to deliver the expected results.
3- Scrum board
A simple visual management board that contain keys information's which will help the team to have a greater understanding of the project situation, this approach is fantastic because it gives the team the possibility to easily see the whole process flow and its bottlenecks.
 Here is how scrum board is structured:
A- Backlog
This is the place where project owner and scrum master will add all the activities of a given project. This information will be used to define what will be the next group of activities to be executed in the next "sprint".
B- Sprint
Is the name of a Scrum project cycle, can last from 2 to 4 weeks. Basically, it is the group of activities that the team agreed to perform in the next cycle, this comes from the prioritization of the Backlog list.  All the activities for a given sprint is represented by a card, that must contain all information needed for the team to carry on with the activities, and all tasks represented by this card will flow through the board, showing its position in the process.
C- In progress
In our case we divided this group in three parts, Design, Simulation, Machining and Checking for tooling development. Regarding to Continuous improvements actions it was divided in: Planning, Execution, Monitoring, and closed activities. See the picture 01 for better understanding
D- Concluded activities
All activities that was already checked and validated.
Image 01: Scrum Board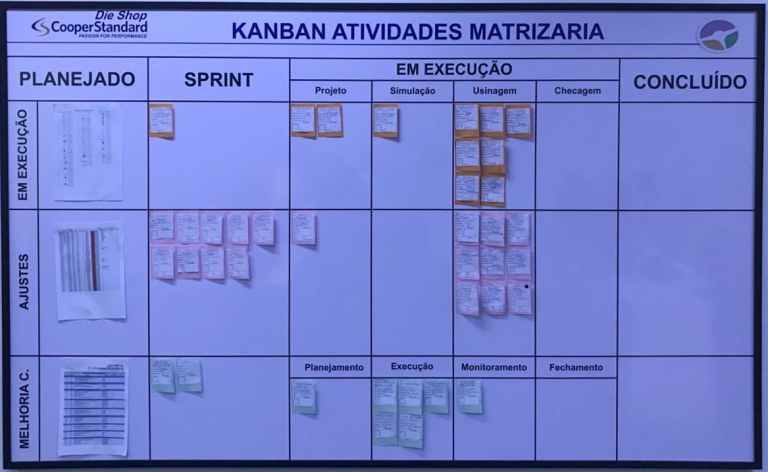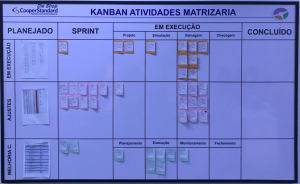 4- Burndown Chart
Enhancing Tooling Shop Performance with SCRUM. The Scrum Burndown is a visual management tool that shows the completed work per day, against the projected rate of completion. Based on this data the team can quickly understand if they are ahead or behind the time targets. If you see the picture 02, the orange line shows the hours needed to be delivered day by day. And the blue line shows the real hours of work delivered. So, if the blue line is above it means that the project is delayed, if blue line is below it means that the project is ahead. Its purpose is to enable that the project is on the track to deliver the expected outcomes according to the schedule. This must be updated by Scrum master and presented in a daily basis during scrum meeting.
Image 02: Burndown Chart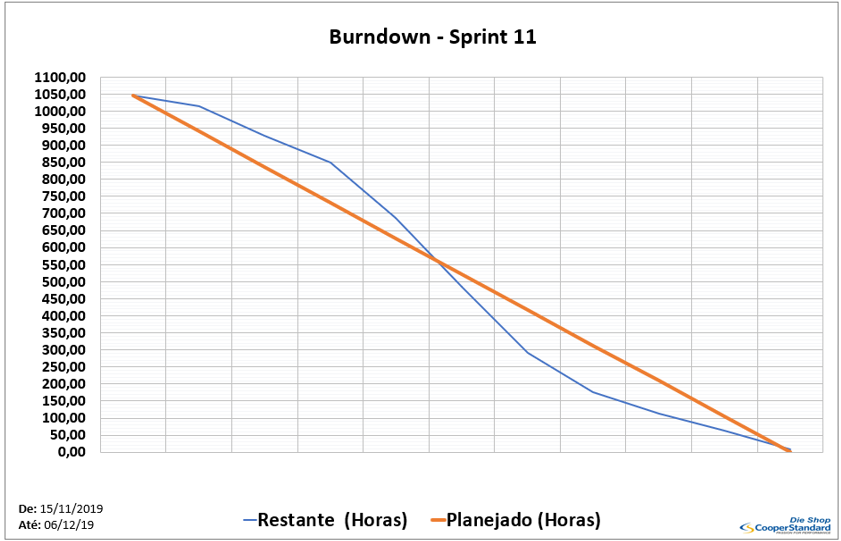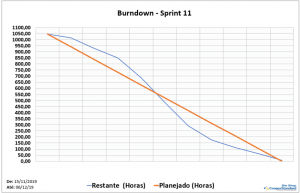 5- Sprint review
Enhancing Tooling Shop Performance with SCRUM. It gets conducted at the end of the sprint, where participants from the team, including project owner and scrum master will inspect the deliverables performed during the last sprint. The goal of this meeting is to evaluate what was good, and what can be improved. The outcomes of this appointment is to have a list of things to improve during the next sprint.
Bellow I will list some benefits we achieve with scrum implementation.
Team engagement and morale:
This method of management provides an environment of support and trust that increases people's overall motivation and morale.
Having face-to-face conversations during scrum meetings helps to reduce the frustration and miscommunication throughout the sprint.
Scrum master can organize the team based on specific work skills and experience, with scrum approach the personalities will be easily understood by the leader.
Scrum management practices focus on cadence delivery and ensures that people don't burn out from stress or overworking.
Having daily scrum meetings where team members organize around work completed, future work, and roadblocks, will guarantee that the members are aligned toward the same goal.
Conducting sprint retrospectives, allow scrum members to review past work and recommend better practices with every sprint, this is the heart of continuous improvement.
Customer satisfaction:
Keeping the product backlog updated and prioritized helps on quickly respond to changes due to customer needs.
Enhances the possibility to deliver better quality, cheaper and faster services and products to our customers.
Customer can easily see what the priority is and what the team are working on, just with a glance to the scrum board.
Better accuracy in terms of time, cost, and quality.
Business strategy and results:
Regular feedback through sprint reviews directly from stakeholders, including customers, enables course corrections early, which is less costly and time-consuming than later in the process.
Regular continuous improvement of scrum team output and performance through sprint reviews with stakeholders.
In Scrum, teams are encouraged to produce and organize themselves autonomously, without often stuck due to interferences of others.
Reducing costs of failure. If a scrum project is going to fail, it fails earlier meaning less costs.
Keeping the product backlog updated and prioritized to respond quickly to changes.
With scrum utilization we had the change to manage larger mix of projects in the same initiative, giving us more flexibility to attend customer demands.
Conclusion
Enhancing Tooling Shop Performance with SCRUM. When I started this journey, I couldn't imagine how good it would be to boost team's motivation and drive our department result. By implementing scrum management cycle during the tooling development, several benefits were achieved, and all stakeholders gained with this approach. The ones that most caught my attention were:  Team motivation, quality improvements, cost reduction, faster decision making, better communication and alignment of the team. This simple way of managing makes the process of delivering complex outcomes an easier task. As we all know, many busines pursuit a simple method to manages their teams toward complex and challenging goals, if you're one of that, I really encourage you to test the scrum management cycle. You will be delighted with the results that your business will achieve.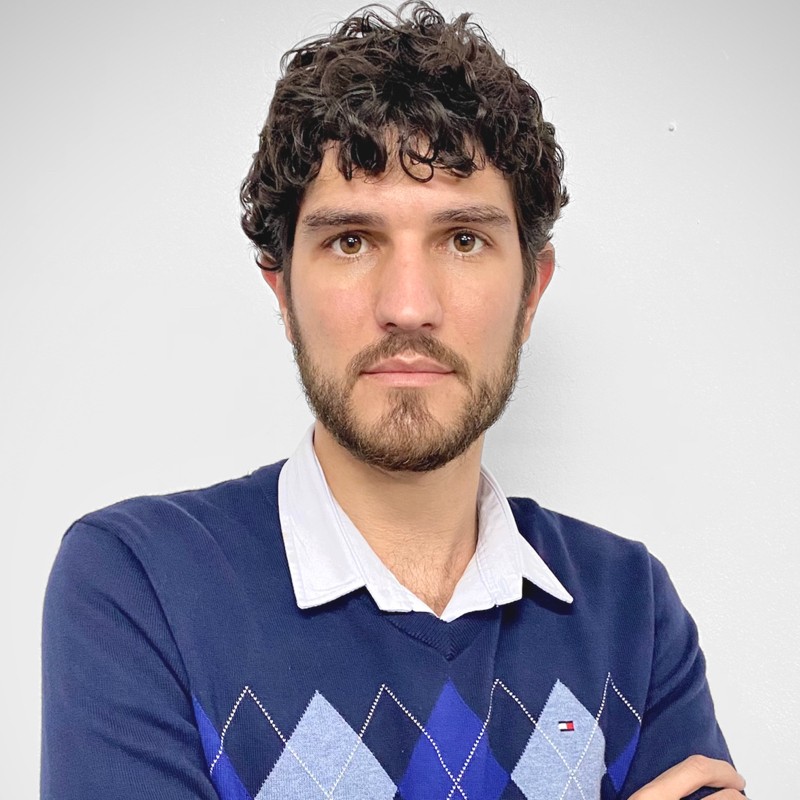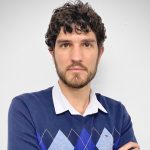 Mechanical Engineer with the emphasis on manufacturing industry, highly organized, with good communication and project management skills. Always focused on reducing costs, and delivering results by using the resources I've learned in my studies, along with the experience gained from the companies I worked. Key strengths: Project Management, TWI - Training Within Industry, Lean Manufacturing, Process Standardization, Leadership of multi-functional teams, Strategic Planning, Continuous Improvement, Extrusion Tooling Design, Extrusion Process, CAE Analysis.